1. What are your favorite kinds of flowers? Let me put it this way: I never met a flower I didn't like! I'm especially fond of daisies, daffodils, roses, peonies, bluebonnets and lilys These are my favorite pretties that grow in my yard: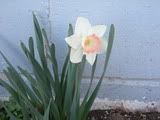 They're "Pink Charm Daffodils" and The Viking calls them "the quintessential Erica flower" because they're "dainty and pretty and so charming".
2. Do you have any cut flowers in your home or office right now? What kinds?
Just some daffodils and tulips I pulled from the yard. Usually by now I have lilacs comin out my ears and the pretty, heavenly smell is filling the house. But this year, my lilacs have done terribly.
3. Are you growing/planting any live flowers inside or outside your home? What kinds and where?
Well I have a bed of daffodils and tulips that'll get a wildflower mix. I've also got a bed by the front door that's filled with hollyhocks and black eyed susans and white gooseneck. This year, on the opposite side of the door I'm putting in a new bed instead of the seating area that's there. I haven't decided what to put in yet but will probably do some sweet peas, some rudebeckia and some hydrangeas. I'll also do some lamb's ear and some lavender (despite never being able to get it to grow) and some various other herbs.
4. Which flowers do you associate with specific people, places, or events?
My Nany's daughter, Donna, always loved yellow roses. I always always think of her when I see a yellow rose.
5. When was the last time you were given flowers as a gift?
Well, a few years ago The Viking brought home the most beautiful bouquet of a dozen red roses. Since then, he's brought home (several times) wildflowers that he's picked on the side of the road. I daresay I like those even better than the beautiful red roses.