Hey-oh Beloved Blog Readers (BBR's). Sorry about the absence. It's been crazy on Ho-Hum Drive. Between swimming lessons, watching Reece, Brooks and Dunn and vacation, I have not been around at all! SHOOEY. But we're home now and I have so much to blog about. Look out y'all, things are about to be hoppin!
So, first of all...Brooks and Dunn. I have been a Brooks and Dunn fan since 1990. It's safe to say I know the words to almost all their songs as I have most of their cds. I always think of my Nany's daughter, Diana, whenever I hear "Boot Scootin Boogie". "Neon Moon" will always be one of my favorite songs of all time and they sing my life's theme song "Cowgirls Don't Cry". (Remember Ally McBeal and her theme song?). So this concert was especially awesome for me, even if it hadn't been their last tour. Dad, knowing how badly I wanted to go, got us into the fan club so that I could buy tickets 5 days before they went on sale. So how good were our seats? Can you say
TENTH ROW
?!
Before the show started, we checked into our hotel room (we have a system, we always get a room at the same hotel in Omaha that has a shuttle over to the Qwest Center) and went down to the bar for a drink, some lunch and some Keno. Then we came back upstairs and got ready to go. I was sportin a cute plaid kinda prairie girl shirt and my Justins. We got to the auditorium and we walk down to where our seats are on the floor (first time we've had floor seats for that center) and look down at the floor and realize that we're standing at row 52...meaning our seats are 42 rows
closer
to the stage! I start squealing and pretty much don't stop for the next 4 hours.
So anyway, Tyler Dickerson (the "Tell your sister I'm single" kid) opens and plays a few songs. I dash out to buy a beer and a tshirt. Gary Allan comes on and sings for a good long while. He sings "Songs about rain" which is in my top 5 favorite songs ever...by anyone...ever. Then Gary Allan tosses his guitar picks into the crowd and I get one! WOOHOO. I take lots of awesome pictures for my friends J&J down in Texas who love him.
But theeeen......they start setting up for Brooks & Dunn. So dad takes my picture in front of the backdrop and this sweet lady says, "how about if I take one of the two of you?". She takes our picture and we ask her if we can take one for her, and she says "oh no hon, I work for Brooks & Dunn, I'm their bus driver". My jaw bounced off the floor several times before finally closing. So anyway, Brooks and Dunn were awesome. They played most of the songs I expected them to. Not all the songs I wanted them to, of course, because my B+D catalog is pretty wide. But they played Neon Moon and my theme song. Ironically I cried when they sang "Cowgirls Don't Cry". I'm a goofball, it's how I roll. So anyway, it was awesome. There are just no words to describe it. The music and the atmosphere was incredible of course, and it turns out ole Kix and Ronnie are pretty frickin funny. It was part musical awesome-ness and part comedy hour. Hands down, the
***very best***
concert I have ever been to. It's okay if you're jealous. I would be too.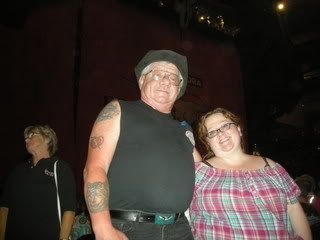 The picture of me and Dad taken by the Brooks and Dunn bus driver"
Not much chance we're gonna make it
If I'm the only one who's trying
You know I'm running out of reasons
And we're running out of time
Someday, girl, you're gonna wake up
And wonder what went wrong
You better kiss me
'Cause your gonna miss me when I'm gone
-"You're gonna miss me" -- Brooks and Dunn