I'm obviously a few weeks behind posting about our vacation, but better late than never, right? Right. So anywho, we went up to Grand Lake, CO for a few short days. The drive was
beautiful
as it crosses through Rocky Mountain National Park. When I was growing up, we went every year to this lovely little town called Vallecito Lake, CO. It was a 5 hour drive from Albuquerque and was a perfect get-a-way. We'd stay in little cabins, play horseshoes and badmitton, fish and go horseback riding. Since we moved away and it'd be more like a 12 hour drive, we've been trying to find a new place like that for us to visit and take Nathan to.
We met my Dad's best friends Shirley and Ray, from Albuquerque, up there and we all stayed in one big cabin. The first thing I noticed when I walked in was that the living room had cow spots everywhere. This thrilled me. We went up to explore the bedrooms and found a dog theme in my Dad and Audrey's room (they
love
dogs) and a stuffed squirrel in Shirley and Ray's room (Shirley likes squirrels so much, her nickname is Squirrely). In short, it was a very peaceful trip. We drank lots of beer, listened to lots of music and played oodles and oodles of games. Mike and Audrey and Dad went fishing. I got to spend a quiet day alone with Nathan hanging out and read a ton of books. We got to take an early morning trail ride a few miles from our lodge. The trail guide was wonderful and Nathan was, predictably, a natural on a horse (as was I at this age). Nathan rode a lovely little gray horse named Shalom who had, at one time, been a wild mustang. Since Shalom had been broken, she had turned into the perfect kids horse. I rode a great big mare named Shiloh and Michael rode a big boy named Cash, who kept biting every other horse in the butt. This seemed to me to be a natural fit for Mike's personality......
Anywho, we had a blast and we even taught Nathan to throw horseshoes. We'll probably return as we loved the little cabin and the backyard was just perfect for Shelby. It was a little too close to the highway for my liking but I'm told that the guy owns another lodge a bit further off the road. We might try them next year.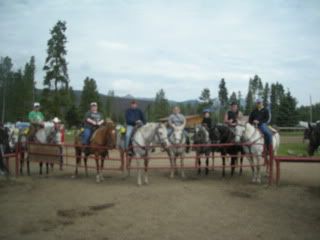 No hour of life is wasted that is spent in the saddle.
--Winston Churchill