I ain't gonna lie to y'all, I enjoy shoes as much as the next girl. I love pretty shoes almost as much as Carrie Bradshaw. I am also, however, insanely practical and a bit of a sissy about foot pain. Therefore, I only purchase shoes that are either ridiculously cheap (as is the case of my $4.00 Dolly Parton style wedges) or incredibly comfortable. I tend to reason that if I'm not going to be able to wear them very often because they hurt my feet so bad, they better be so dirt cheap that I don't feel guilty about not wearing them. All that being said, I do own
a lot
of sneakers. I have work out sneakers, working sneakers, yard sneakers and my most important pair ever, my
ATTITUDE
shoes.
You see, I think it's important every girl have a pair of shoes that when she straps them on, she goes "oh yeah, that's right, I'm Super Woman hear me RAWR!" I mean let's face it, we all have those days where we feel cranky, fat, ugly, mean or just plain
bleh
. I have two pairs of shoes that are an instant attitude adjusters. The first being, of course, my beloved
Justin Ropers
. I wear these to every country concert and all winter long and nothin makes me feel like a prettier redneck chick than my boots. But, they're black and as such don't really "go" with my work uniform of brown pants and a blue shirt. My other attitude shoes don't really "go" either, but I love them so much I think they go with everything. I'm talkin about my oh so adorable pink Chuck Taylor All Stars. Growing up, I always had Chuck Taylors. By the time I was 6 or so, I had a red pair of Chucks (and a red pair of Justins, come to think of it..I see a pattern) and by the time I was a teenager I had numerous pairs. Sure, they're not the most comfortable shoes for being on your feet all day, but I tell you what, nothin makes me feel more feisty, adorable and downright spunky. I've worn them to work a few times now (paired my favorite way, with a skirt) and I always get compliments on them. In fact, some of the ladies have taken to callin me "Spitfire" because of the 'tude I project while wearin my girls. I was given them a few years ago by my hubby for my birthday after some not-so-subtle hinting, and I wear them everywhere during the summer (they're not the most practical snow shoes). They go great with a skirt at work, with a dress to church or with cutoffs to the lake. I'm hoping to pick up another pair for my
30th
first anniversary of my 29th birthday. But I have a feeling they won't feel the same or give the same mojo as my pink pair!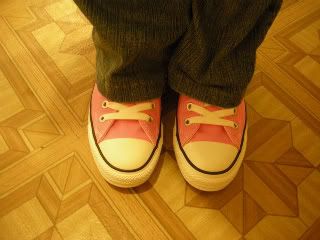 Tell me about your attitude shoes. Do you have a pair? Do you need a pair? Would you like to borrow my pink Chucks?
"It's really hard to walk in a single woman's shoes -- that's why you sometimes need really special shoes!"
--Sex and the City